Windows 7 Chemstation Upgrades
Chemstation Upgrades and Support Services
for HP 5971, HP 5972 and HP 5973 Mass Spectrometer, Agilent 6890 GC and GCMS.
Need to upgrade your old, out-of-support GC/MS system to a modern Chemstation PC with Windows 7 quickly and affordably? We can help!
Want to move your 5973 (or newer) MSD to Mass Hunter ? Visit our Mass Hunter Upgrades.
Why we offer support for the Windows Based Chemstation:
The first Dos Windows based Chemstation came out in the early 1990s. Every time Microsoft rolled out a new Windows product, Hewlett-Packard (HP back then) would revise their Chemstation software. And on each major revision, they took the opportunity to remove support for older MS systems. This was their way of persuading you to "retire" your old mass spec system and buy a new one.
Our upgrade products follow three different paths.
1. For currently un-supported instruments - that is instruments (GC MS systems) that HP/Agilent will no longer support.... 5970s, 5971s, 5972s, 5988s, 5989s. G1701BA and Windows 7.
2. For currently supported instruments.... 5973s, 6890s and newer. G1701EA and Windows 7.
3. For Agilent's newest .... 5973s, 5975s, 5977s, 6890s, 7890s. Visit our Mass Hunter Upgrades page.
We help you keep your Chemstation up-to-date at a fraction of the cost of a brand new Agilent 5975 or 5977 Mass Spectrometer allowing you to put those financial resources to better use.
Since 1990 we have been studying and modifying the HP/Agilent Chemstation and every time they changed it - we'd put the support for old mass specs back in place. We've have had a very successful business for 23+ years. The "hacks" that we add to Chemstation are necessary for you to run your mass spec on Windows 7 are ours and can be found NO WHERE ELSE in the world (sole source justification). Over the years, some of our competitors copied our work but when we went to the XP upgrade we engaged an Anti Piracy Key and since then it has held up perfectly, keeping our IP safe. Our upgrade is distributed on our own CSS built preloaded PC with backup image and emergency boot/recovery CD Rom. Our quality PC will be pre-configured, ready to plug in and deploy. In some (vary rare) cases, your GC-MSD may need newer boards. Contact us for details if you have a very old MSD. We also support HP 5988 and HP 5989 MS Engine.
Need to save a bit on your upgrade? Check out our XP PRO Chemstation Upgrades.
We have various HP and Agilent Windows 7 Upgrade packages with easy to follow instructions as well as Chemstation hardware that Agilent no longer offers in "kit" form.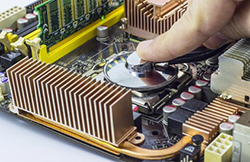 Having a Windows 7 Chemstation Support Staff ready and available is an invaluable service offered by CSS Analytical. Our Windows 7 Chemstation Experts have the knowledge and expertise to make your Chemstation Upgrade a breeze. With our knowledgable staff, you can count on getting the right information, explanation of parts and step-by-step instructions at the click of a mouse. Let us know what you need, we can help!
Cost! As you know, brand new Chemstations are not cheap. Upgrading your old, out-of-support GCMS systems to a modern PC with all the bells and whistles is a cost effective way to bring your perfectly good 10 to 15 year old mass spectrometer into the modern era and allow it to run another five to ten years. Our product upgrade gives you one (or more) big Hard Drives, a DVD burner, lots of USB ports and completely modernizes your Chemstation with Microsoft Windows 7. Have your older HP MSDs running on a screaming fast PC in less than an hour.
All for a fraction of the price of a new system.
Install the upgrade yourself or ask for on-site installation.
Available for HP 5971, 5972, 5973. Also for 5989, 5970 & 5988.
Let us prepare a custom quote for you today!
Chemstation(c) is a copyright of Agilent Technologies Inc. J