Nanospray for Agilent
It is now possible to take full advantage of easy, repeatable nano spray using the the Agilent Chip product with Agilent MS and MSMS Instruments. Our own CSS Analytical TrueSpray(c) Interface with our custom built interface easily attaches to any Agilent Mass Spectrometer.
The Agilent Chip (various part numbers) is a credit card sized, disposable product, which offers an enrichment column, an analytical column, a column switching valve and an electrospray (ESI) emitter – all on one micro-fabricated chip.
For the Agilent MS systems, CSS Analytical DOES NOT MODIFY the individual Agilent Chips. We fuly support our interface. Call us directly for support.
This two-column chip is the key, it provides easy, repeatable, walk up – drop and spray nano ESI. Set up time is virtually non-existent. If your Agilent lab needs nano spray then the CSS Analytical Nanospray Interface system is what you need. Click here to fill out our easy quotation form.
The system configuration looks like this: There are two HPLC pumping systems, which can be any brand but we think that Agilent 1100 and 1200 systems are awesome. A Micro-capillary pumping system will load the On-Chip trapping column. After the trapping column is loaded, the On-Chip valve switches and a Nano pumping system takes over to elute the analyte off the trapping column and onto the On-Chip analytical column. Loading is done at around 4.0 ul/min, the analytical gradient is run at 500 nl/min. Of course a PC and Chemstation will be required to run the Agilent modules. All parts of the system are interconnected with remote start cables so full sequencing is straight forward, making automated runs easy.

CSS Analytical Co Inc is not affiliated with Agilent Technologies in this project and product offerings. Agilent Technologies is not in any way connected with the CSS Analytical Chip Delivery System and does not sanction or warrant any use or modifications to its products.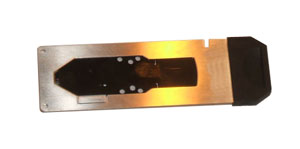 Rapid Protein ID Chip: 43mm 300A C18 Analytical Column, 40 nl Trapping Column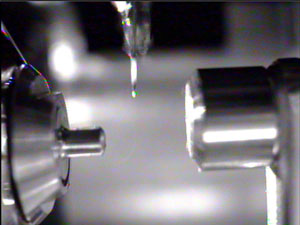 Chip in spray mode, note the nano-spray bending slightly to the left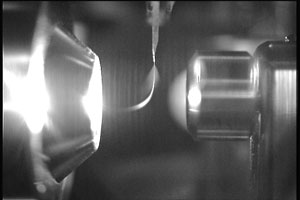 Chip in spray mode, note the nano-spray bending slightly to the left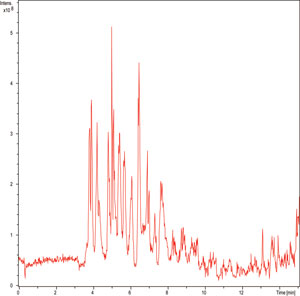 Here's a chromatograph of Digested IGG, eluted with a 10 minute gradient from 5% Acn to 70% Acn using the Harvard Syringe pumps and our gradient control program, on the Agilent Protein ID Chip. Rapid Protein ID, 43mm 300 A C18 chip w/40 nL traping column.
"Agilent" is a trademark of Agilent Technologies